Intelligent Lighting Systems – A Smart City Advantage.
02.20.2019

It's no surprise that cities around the world are actively deploying intelligent technologies in efforts to launch positive economic changes and scale with the digital world. You certainly hear and read a lot about the benefits associated with the energy efficiency of LED light emitting diodes versus traditional lighting, but what are the proven benefits to better lighting services for streetlights? Aside from efficiency, capabilities translate into significant benefits for the public too:
Proactive and quick repairs of lighting failures to greatly reduce complaint calls.
Ability to accurately diagnose issues to reduce the time lights are out of service.
Remote options to dim or increase brightness for citizens and emergency needs.
Asset tracking and GPS location to better serve cities and bill more accurately.
According to CIMCON, the world's leading provider of advanced turnkey industrial automation systems, a lighting management system is proven to lower energy consumption and cost by 20-30% and reduce maintenance and repair cost by 20-70%. In addition, improved public safety, comprehensive reporting, and lower capital expenditures are even more key benefits that come from deploying smart solutions such as LED-based streetlights. These are the statistics that make a difference as our cities think about implementing future-ready foundations to ensure scalability and a return on investment. 
On the contrary, a city that lacks planning in the short-term may see inefficient processes, ineffective services, and higher costs. It's also likely to hurt a city's ability to attract businesses, residents, and investment in the long-term. CIMCON shows the financial benefit of a lighting management system with intelligent controls for a city with 10,000 LED streetlights here: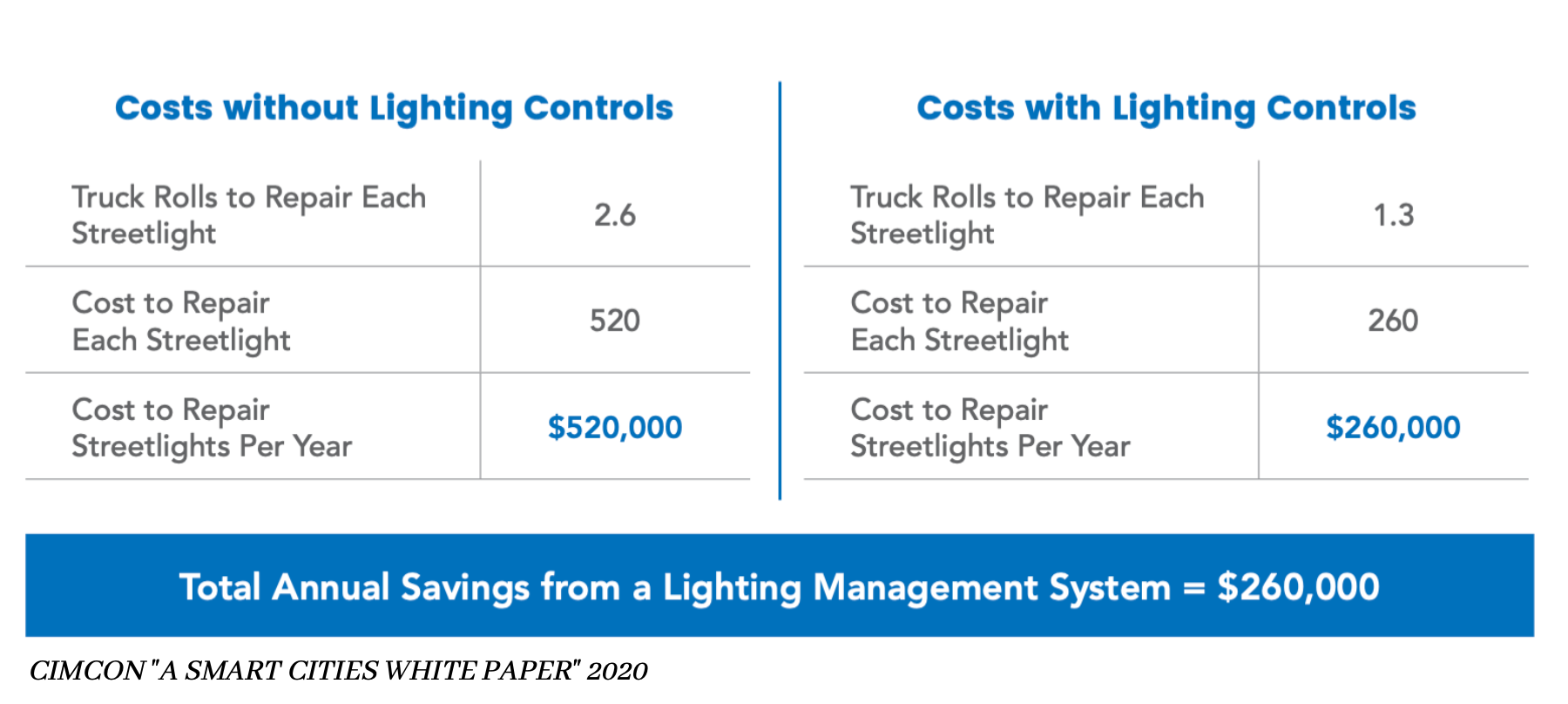 Due to their energy efficiency and long lifespan, LED streetlights are also advocated as a means for reducing carbon emissions. According to The New York Times, converting all American light fixtures to LEDs would halve the amount of energy used for lighting in the country. Datasmith understands that intelligent systems have the potential to impact how we work, but also how we live. We stay in the know and are dedicated to creating customized road maps to fit the needs of our clients. Lighting management systems are an immense step towards smarter, safer, and sustainable living for everyone.
Please follow and like us: