Choosing the Right Cloud Service
The decision you make for your cloud needs will have a profound outcome. When you don't know what measurable factors to compare, it can be a challenging decision. Thankfully, the absence of those factors shouldn't be a problem if you're looking to invest in an IaaS solution. With the explosion of cloud computing maturation, businesses are seeking a way to help clients reduce costs, increase supportability and efficiency, and create a platform for innovation and adaptability. IaaS does just that.
Datasmith's IaaS delivers instant computing provisioned over the Internet, the ability to quickly scale up and down on demand, and the option to only pay for what you use. You can completely avoid the expense and complexity of infrastructure and secure your data safer than ever; and we'll be by your side every step of the way.

Hosted Applications / Apps
Development Tools, Database Management, Business Analytics
Networking Firewalls / Security
Data Center Physical Plant / Building
Infrastructure-as-a-Service (IaaS)
Implementing IaaS allows your business to:
Improve business continuity and disaster recovery plans.
Innovate rapidly with new products or initiatives.
Respond quicker to shifting business conditions.
Increase stability, reliability, and supportability.
Focus on your core business operations.
Adapting to Our Virtual Economy
It's an economy of limitless opportunities for some and disruption for others. According to MIT, the businesses adapting to the digital world are 26% more profitable than their industry peers. Our job is to make your job easier, and we believe that enhanced security, consistent availability of information on multiple systems, and lower overall costs are pretty important parts of that.
As businesses face shrinking budgets and pressures to collaborate over a dispersed workforce, desktop virtualization provides a cost-effective and secure way for employees to perform their job function from any device, anywhere.
Stable. Secure. Simplified. This is the core of Datasmith's Virtual Desktop service:
Accessible from multiple devices.
Quick and easy desktop image deployment.
Reduced computing requirements.
Management of a Single OS reducing costs.
Simplified management and support.
Why Hosted PBX Beats Traditional Approaches
Let's face it: we live in a mobile, digital world. With so many moving parts – cell phones, laptops, desktops, tablets, in-office phones, remote employees – it can be challenging to streamline and unify systems and information. That's where a Hosted Private Branch Exchange (Hosted PBX) comes into play.
What Datasmith provides with a Hosted PBX is a cloud-based communications platform that is designed for cohesion and collaboration. This service not only saves time and resources, but it helps create the efficiency that unites people with common purpose. It's not just about being connected – it's feeling connected.
Datasmith's Hosted PBX delivers:
Lower Costs (up to 50% on monthly phone bill compared to traditional service).
Simplified scaling and business continuity management.
Seamless integration of all communication tools.
Increased productivity and collaboration.
Increased reliability.
Integrating Cybersecurity with Business Continuity
Is your business data backed up regularly? Have you tested your data backup solution? Are you certain that all sensitive data can be recovered if needed?
Datasmith helps you protect your most valued assets to ensure business continuity.
There's no denying that cybersecurity and business continuity should go hand-in-hand. Once considered two entities altogether, they work together to secure data, minimize costs, and streamline an effective response to any type of data breach. 
We provide the peace of mind that even if your business faces a cyberattack; you're protected, your employees are protected, and so are your customers. Investing in a holistic BDR plan now, like the kind Datasmith develops for our clients, will prevent disastrous downtime later. Major benefits include:
Risk Mitigation
Minimize the impact that an unexpected threat might have on your business.
Minimize Cost
Being well prepared protects overall profitability in the event of an attack.
Peace of Mind
Don't wait until it happens – safeguard your business and your sanity.
What Benefits Come With Hosted Storage?
While on-site solutions remain a viable option for data storage, more and more businesses are taking notice of the Cloud-based storage options because of their ability to be managed and maintained from any environment. This eliminates the need for infrastructure, which ultimately conveniences the bottom line.
Because our hosted storage service is delivered via the internet in a pay-as-you-go model, your overall costs and time to deployment see a significant decrease. And as if it wasn't appealing enough – compared to a traditional IT environment you can enjoy up to 90% reduction in energy consumption by migrating to the Cloud!
Not only do we take the guesswork out of what optimal data storage and management looks like, Datasmith's hosted storage also delivers:
Software Test and Development
Backup and Recovery Plans
Big Data and Data Lakes
Cloud Data Migration
Compliance
Your data is valuable. Store safe. Store smart.
Internet of Things (IoT)
The Internet of Things is a concept that not only has the potential to impact how we live, but also how we work. IoT is anything that has the ability to connect to the Internet – from the smart phone in your hand, to your car, or to a plane's navigation system. But what exactly does this have to do with your company?
In a world where everything that can be connected probably will be connected, there are a lot of possibilities, which also raises a number of risks. Even if the chance of one device being accessed by a bad actor is small, the large number of IoT devices being brought into businesses can create a significant security hole.
Adapting your business to IoT is no small task. It can have a significant impact on your operations, standards, and business model, which is why you want a skilled guide to lead you through the process to ensure maximum efficiency and security.
Datasmith is that guide.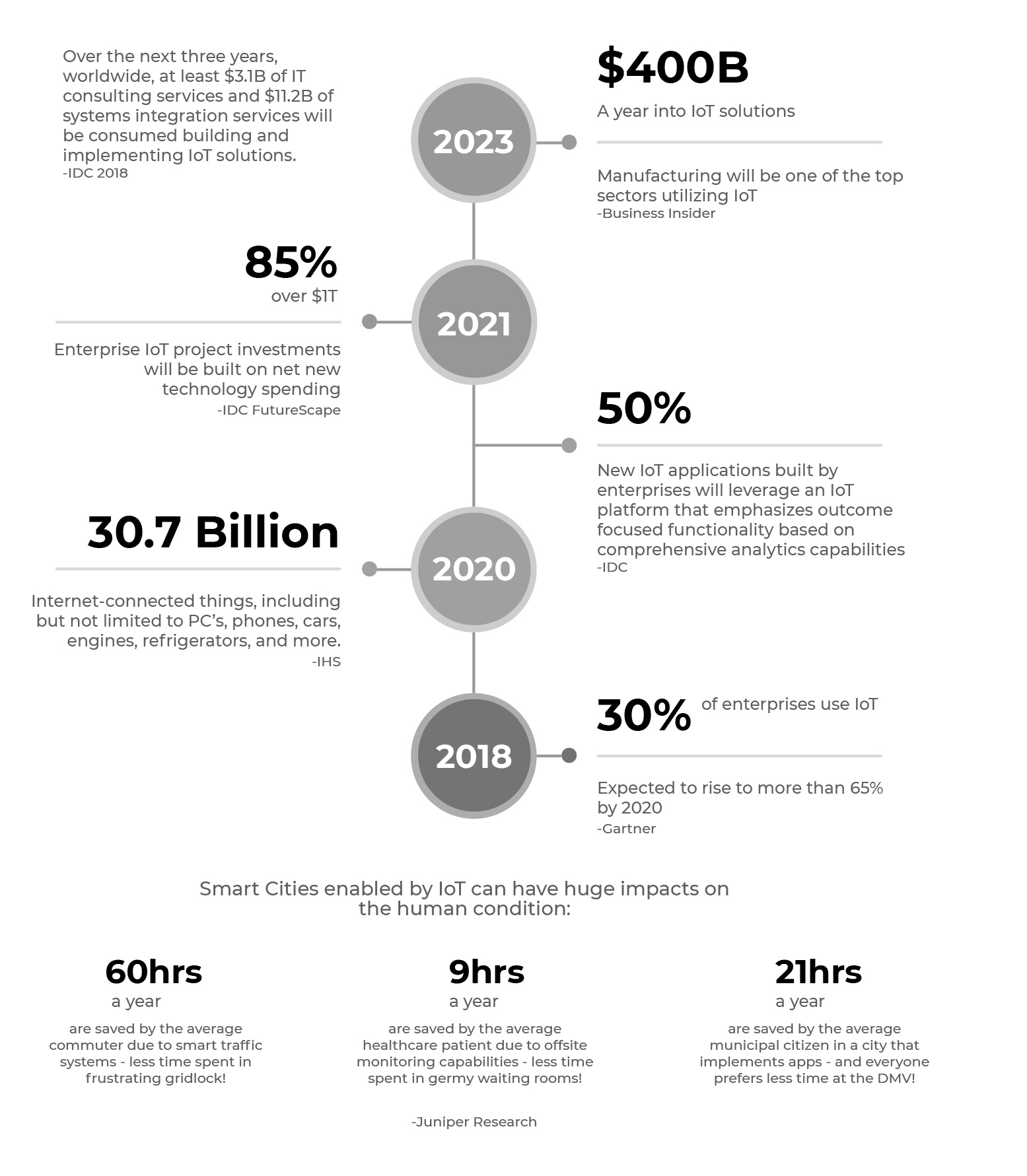 Readiness Assessment + Audit
We are experience-driven and innovation-focused. We'll dig into the details of your digital capabilities and determine if adopting IoT is the best path for your business. If it is, we create a roadmap for adaptation.
Site
A proper build depends on having a solid understanding of your site and foundation. Part of Datasmith's assessment includes a site survey to confirm that your company has the infrastructure to support IoT better business outcomes.
Connectivity
Maximum connectivity and seamless integration potential are key to successful IoT implementation. If there are any gaps in necessary structure, we work with clients to create the requisite stable and secure wireless environment.
Security
Extensive penetration testing provides an invaluable map of your network's strengths but more importantly, the weaknesses that need to be addressed to guarantee effective security.
Infrastructure
We like to build from the ground up, so-to-speak. In order to promote reliability, scalability, and optimized results in an IoT environment, a strong and efficient infrastructure is a must.
Products no longer exist in isolation.
At Datasmith, we help you explore the smart products, enabling technologies, and real-world use cases that improve operations and save resources for your business. Download this resource to learn more about the power of IoT and our competitive offerings.
Learn how we can help manage your IT so you have more time to manage your business.
17 West Street, 2nd Floor

| Walpole, MA 02081 Copyright © 2022 Datasmith Network Solutions.