There is no one-size-fits all solution when it comes to security, but there is SOCaaS!
A Security Operations Center as a Service (SOCaaS) is one of the most important aspects of information technology. Managed detection and response features provide a powerful blend of cutting-edge Concierge Security Team (CST) services in tandem with threat intelligence and advanced learning.
How exactly can it help your business? SOCaaS is a service that provides real time monitoring, detection, and analysis of cybersecurity threats. It's a service that goes above and beyond proactive detection of advanced targeted attacks that have gone undetected by your existing perimeter controls. 
Typically, companies tend to be reactive instead of proactive. This creates a vulnerability that bad actors are all too familiar with. As these bad actors become more educated, they learn how to easily infiltrate systems without any detection. It's critical to understand that security breaches are at an all-time high and they're still rising.
Choosing the right technology, people, and processes to build a modern security operation function is one of the biggest challenges for today's Chief Information Officer. While SOCaaS detection and response capabilities are one of the biggest benefits to your company. What else do we think is necessary for you to know about this solution?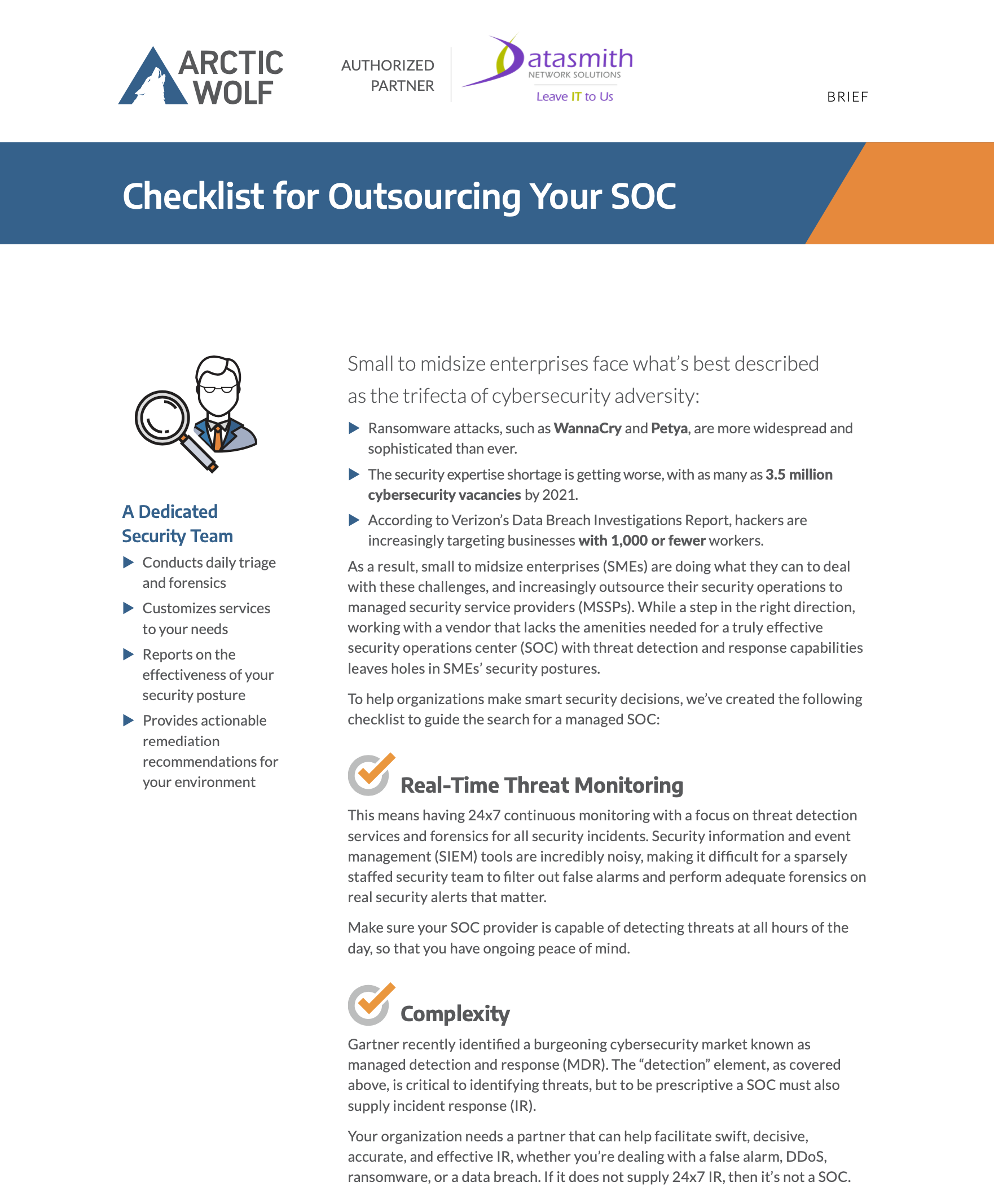 Some other benefits to SOCaaS include:
Network Inspection: A fully managed network.
Log Analysis: Aggregation with all current systems.
Threat Intelligence: Stopping any real threats.
Cloud Monitoring: Accessible SaaS configuration. 
Endpoint Visibility: Insight into valuable asset data.
Compliance: Design and management of policies.
You can download this Checklist for Outsourcing Your SOC to see for yourself if your organization is a good fit for this service. Datasmith simply wants to product you, your employees, and all your assets. You can leave the critical IT needs to the experts that handle it everyday.
We proudly partner with Arctic Wolf to deliver this solution thanks to their proven record of success in the cybersecurity space. You're in good hands with us.
The last thing you want to do is leave security and regulatory compliance to chance. The financial risk to your business is too great and lawsuits from affected parties can cost you everything!
At Datasmith, we know what it takes to swiftly and effectively neutralize security threats and adapt safeguards to address potential future infiltration attempts. Learn how we can help manage your IT, so you have more time to manage your business. Contact us for a free, personal consult!
Please follow and like us: