The Evolving IoT Ecosystem…And How To Leverage It.
03.09.2020

Microsoft's CEO Satya Nadella said, "Longevity in business is about being able to reinvent yourself or invent the future." The digital transformation is here. It has become embedded everywhere and it's not slowing down anytime soon. The Internet of Things (IoT) refers to an ongoing trend of connecting all kinds of physical objects to the internet, especially ones that you might not expect. This can mean everything from business assets like shipping labels and medical equipment, to common household appliances like fridges and ovens, or even the smart device you are on right now.
More specifically, IoT refers to any system of physical devices that receive and transfer data over wireless networks even without human interaction. According to CompTIA's 2019 Trends in Internet of Things research study, two-thirds of companies say that IoT initiatives are aimed at incorporating technology into existing business processes due to the social proof of it already driving change and impacting efficiencies in companies across the country.
CompTia research has also determined what they call an "Ecosystem of IoT" and it includes four key components: Hardware, Software, Rules, and Services. Hardware refers to the physical devices and sensors being created. They require an operating system to make them functional, which leads us to the second part of the ecosystem called Software. Rules are the third component and are commonly the biggest hurdle as new technologies are always emerging and standards apply to all areas of IoT – applications, services, network and access. Services are the final component of the ecosystem and refer to delivering the value-add and scalability when paired with Hardware, Software and Rules to deliver data and insights.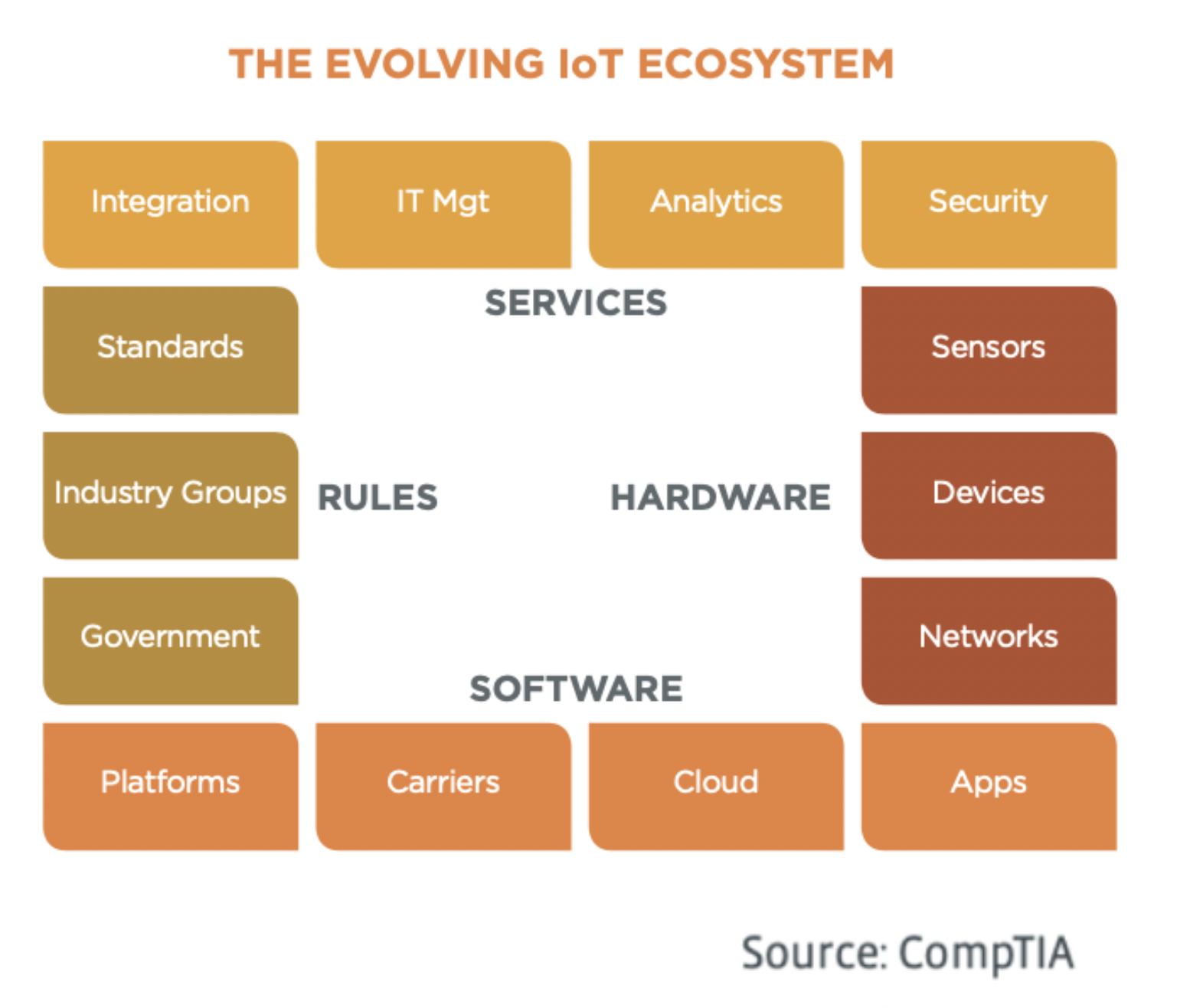 Many small firms that do not have the resources to deal with the complexity of IoT systems will rely on services to deliver value in the IoT space. Technology firms that help unlock these insights are an integral to the ecosystem. At Datasmith, we become your trusted IT ally to help achieve your goals. If IoT solutions are right for you, we get right to work creating a road map to immediately start integrating and executing.
Our robust process in delivering IoT solutions includes:
Envisioning the possibilities and what it can mean for your industry, workflows, and business goals.
Securing the right solutions for the right needs.
Deploying the implementation and ongoing support.
As a trusted full-service MSP for over 33 years, Datasmith success derives from staying updated with the technology landscape to help you navigate it as seamlessly as possible. It's an economy of limitless opportunities for some and disruption for others. Our job is to make your job easier and we believe that integrating IoT can be a major factor in that.
Please follow and like us: