Relieving Your Current Security Pressures
10.28.2020.

Did you know 80% of companies have accelerated their digital transformation efforts amid remote work and the COVID-19 pandemic? As priorities continue to shift one area remains critical – and that's security.
It's no surprise that hackers are on the rise and more data is being compromised than ever before. It's all over the news and internet. Reimagining business for the digital age is important for any size company to stay ahead of the curve, but it's just as important to not overinvest in a plethora of tools.
Datasmith offers practical advice on how to do security the right way. It starts with having a more operational and comprehensive approach to fit all of your evolving cybersecurity needs. When companies feel pressured and overinvest, they suffer from alert fatigue and multiple console complexity.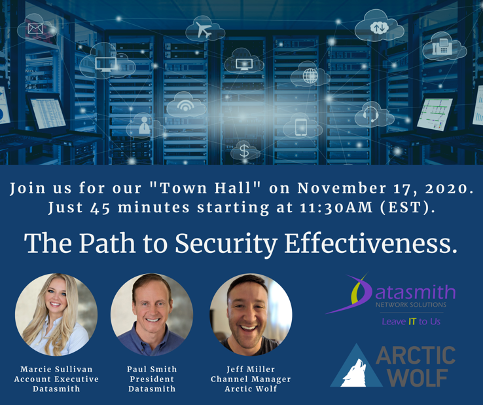 Arctic Wolf provides the #1 security solution today – Security Operations Center as a Service (SOCaaS).
Managed Detection and Response (MDR): 24/7 monitoring, detailed reporting, real alerts, and overall lower costs due to less breaches.
Artificial Intelligence (AI): Broad visibility, less human error, and leverage of the Cloud.
You can join our virtual Town Hall on November 17th to take a deep dive into what SOCaaS can do for you. Just 45 minutes to bring you peace of mind.
Please follow and like us: