We've been posting a lot about viruses lately. Why? Because one of the world's top email bots, Necurs, mysteriously disappeared for about a month and was spotted a week or so ago sending approximately 80 to 100 million virus infected emails. While Necurs was on hiatus, two other prominent email attackers, Dridex and Locky, formed even stronger malware. With all 3 threats actively sending malicious emails, the need to protect yourself, and your business, is stronger now than ever before.
The Latest Threat
The most recent virus comes in the form of a zip attachment. The attachment, once opened, will infiltrate your files via the %Temp% folder. It locks all your files and demands a ransom be paid, typically via bit coin, to get your files back. In their prime, attackers can make $100,000 to $200,000 a day launching this virus. This virus is particular worrisome because it has added an anti-virtual machine code, making it harder for security experts to analyze it from a virtual machine.
What does the email look like?
According to ProofPoint, this new Locky campaign uses emails with the subject Re:
Attachments are titled:
services_[name]_[6 random digits].zip, [name]_addition_[6 random digits].zip
[name]_invoice_[6 random digits].zip
The zip files contained JavaScript files named addition-[random digits].js. You can see what one of these emails looks like, courtesy of ProofPoint, below: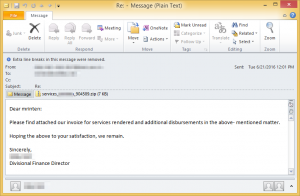 What can you do to protect yourself?
NEVER open ANY email or email attachment you are unsure of. If it is from someone you know, but looks odd, call or message that person and ask if they sent it. You can also contact Datasmith and we will gladly examine emails before opening.
Back-up, back-up, and back-up your data. You can never be too careful backing up your information. Services like Axcient will do it automatically for you.
Use your anti-virus and firewall software. If you are unsure of how up-to-date your software is, contact us and we'll see where it stands.
Viruses will continue to grow in strength, and creativity, as the digital world becomes more prominent. Creating safe practices and procedures now, will prevent disaster in the future.
Please follow and like us: