IT Matters: The Cloud – 5 Questions You Need to Ask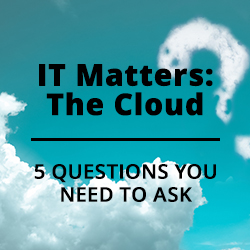 There are plenty of benefits associated with moving your IT business information to the Cloud: reduced costs, network backups, better mobility. But choosing how to make the move and with whom – so your company gets the benefits it needs – is not as simple. If you're thinking about migrating to the Cloud, there are a few questions you should ask first. 
1. What does security actually look like?
To ensure your information is protected properly, you'll want to find an authorized Cloud Service Provider (CSP) that is fixated on always 'locking down' your data. You need to understand who has access to the data and who controls it. Something you'll always want to ask a potential CSP and discuss in detail: what security measures are in place to guarantee my data is never breached?
2. Is your Cloud platform compliant to my specific industry and needs?
Compliance is sometimes overlooked or considered somewhat unimportant, but the reality is just the opposite. There are over 8,500 state and federal regulations addressing records management in the U.S. There is no simple workaround. To be aware of and current on industry-specific compliance requirements up front, will save your organization energy, capital, and time. 
3. What kind of support will I have?
Every business is going to have a unique set of communications and support preferences. What are yours? What kind of support does your company require? Is that support offered through a call center or a designated resource or manager? In this lightning-fast age of information, time is money. If you're looking at a plan that doesn't have you covered 24/7, you might want to keep searching. 
4. What is it going to cost?
Cloud Service Providers come in all shapes and sizes, but the three major players are Amazon (AWS), Microsoft Azure and Google (GCP). Beyond that there are hundreds of smaller/niche players providing Cloud backup service. When it comes to finding the right Cloud service for your company, bigger isn't always better. You need to determine which player works best for you based on your business model, budget, and long-term goals. You're not just planning for today – you should be thinking about scalable options for your ongoing growth.  
5. How do my business needs come into play?
This one may sound obvious, but it's one of the most important conversations you can have with a potential Cloud provider. After all, the whole point of these services is to streamline your business and set you up for success. Always ask the question: how will they seamlessly migrate AND integrate your business needs within the Cloud? Keep your objectives in mind: to reduce costs, alleviate some pressure from your IT team and provide a more efficient service to your customer base. There's a lot to gain by migrating to the Cloud, sure. At the end of the day, it's all about you. Ask the big questions up front and you'll set yourself up to succeed down the road.
Have more questions? Contact us today to set up a call to discuss your needs and how moving to the cloud can help your business.
17 West Street, 2nd Floor

| Walpole, MA 02081 Copyright © 2020 Datasmith Network Solutions.