Datasmith Named Cybersecurity Champion
10.07.2020.

Cybersecurity Awareness Month continues to build momentum and impact the ultimate goal of providing everyone with the information they need to stay safe and secure online. Datasmith is proud to support this awareness initiative co-led by the National Cyber Security Alliance (NCSA) and the Cybersecurity and Infrastructure Agency (CISA) of the U.S. Department of Homeland Security.
This year's theme is "If you Connect it, Protect it," which dives into the importance of keeping connected devices safe from outside influence. Zero Trust is a leading concept centered on the belief that no one is trusted by default from inside or outside the network and verification is required to gain access. With that being said, Bring Your Own Devices (BYOD) is currently being woven into society as an integral part of how people work and live, making a Zero Trust approach more critical than ever. Data collected from these devices is often used by hackers to compromise you and your organization. Let us help you install the right security measures so you do not become a victim.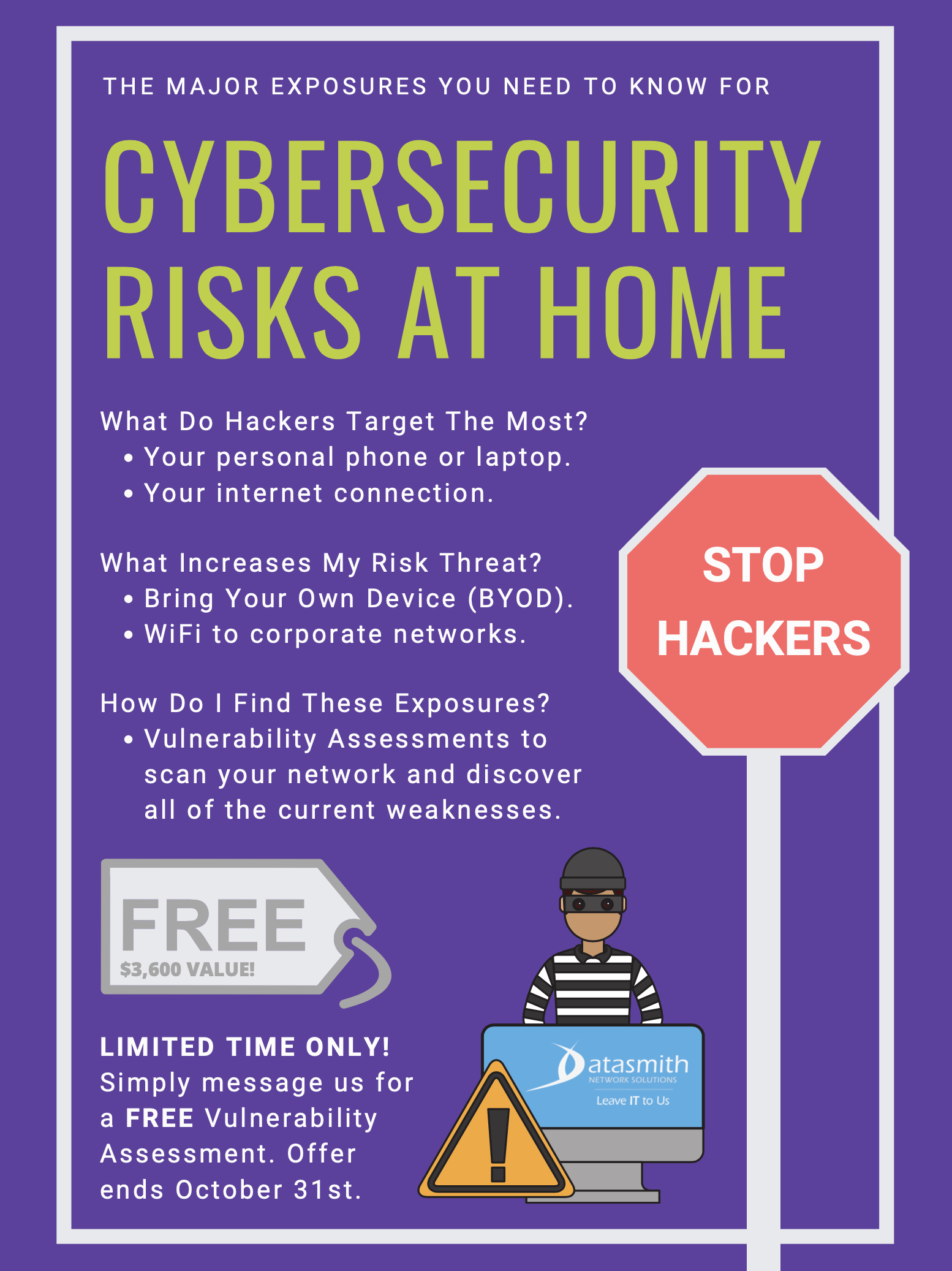 To further show our support and help you better understand the exposures you might be at risk for, we are giving FREE Vulnerability Assessments ($3,600 value). Simply message us to claim yours. This offer ends October 31, 2020.
We would also like to share some simple security measures to limit the susceptibility of threats for commonly used devices:
Public WiFi is not secure or safe. If you must connect, use a Virtual Private Network (VPN).
Keep your device security software, web browser, and operating systems up to date. Be sure to turn on auto-updates.
Step up your password game on devices with Multi-factor Authentication (MFA) for another security layer to lock down your login.
Download this resource to share with your team and others. We're ready to protect you from hackers and it doesn't cost a dime to speak with us. Now is the time to secure your environment!
Please follow and like us: