MSP vs. MSSP… What the S is going on?
05.13.2019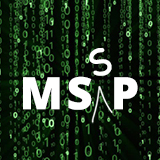 No, it's not a typo. And yes, there is a difference between an MSP and an MSSP, one you should definitely know if you are either currently outsourcing or thinking about outsourcing your IT. Here's a leg up on your homework.  
MSP stands for Managed Service Provider. This is your one-stop shop for all things IT. A good Managed Service Provider will do it all, and do it all well. We're talking cloud services, networking systems and structures, VoIP, datacenter, strategy, helpdesk support and organization. It's no secret that technology can be complicated and is constantly evolving, which is why it makes sense for companies to outsource to experts. It not only keeps personnel costs down and provides 24/7 support, it saves employees – who should be free to focus on their job – endless aggravation and lost time. The MSP is the renaissance firm of the outsourced tech world – the one you'll call when you need a solid variety of IT services. Think Jack-of-All-Trades, as long as those trades are IT.  
MSSP stands for Managed Security Service Provider. That one little word makes a world of difference. These are your black ops folks, your technological SWAT team. They are designed to help companies identify and reduce risk as well as beef up their cybersecurity. Having doubts or questions about how safe your business info is? You'll want to call an MSSP. They will get into every digital nook and cranny, every dark corner and expose any vulnerabilities. Confidentiality, integrity, information availability, safety of assets – a good MSSP will test it all and develop a plan to address any weaknesses. Think John Wick meets Jason Bourne, but super nerdy and obsessed with computing. Since the cost of an in-house security expert is well into the six-figure range, an MSSP makes a lot of financial sense.
Now, I know your next question: is an MSP ever an MSSP too? Not to get confusing, but the answer is yes. In fact, sometimes an MSP will eventually morph into an MSSP, depending on a company's needs. Traditional Managed Service Providers are also catching on that helping businesses align with the ever-changing cybersecurity regulatory landscape is critical to overall solid IT design and support. You can set up the best, most efficient system in the world, but if you can't protect the data flowing in it, you're in trouble.
So, let's recap: an MSP is your go-to for a wide range of outsourced IT needs, and an MSSP is more specifically designed to test and bolster companies' cybersecurity. An MSP can sometimes turn into an MSSP, but not the other way around. Also, John Wick is a wicked movie.
Here's a specific breakdown, in case you want to nerd out:
| | |
| --- | --- |
| MSP Function | MSSP Function |
| Deploy hardware and software | Perform risk assessments |
| Design network infrastructure | Perform vulnerability management |
| Configure and deploy Voice-over-IP phone systems | Perform cybersecurity gap analyses |
| Migrate workflows to the cloud | Align companies with cybersecurity compliance requirements and frameworks (HIPAA, PCI, NIST, etc.) |
| Provide outsource helpdesk services | Help companies write information security policies |
| Provide vCIO services | Provide vCISO services |
| Perform patch management | Perform penetration testing |
17 West Street, 2nd Floor

| Walpole, MA 02081 Copyright © 2020 Datasmith Network Solutions.
Please follow and like us: